Industries and applications
Used across a vast variety of industries
Energy retailers

Create energy super-apps that increase retention and unlock revenue from flexibility markets

Energy startups and apps

Build market-leading energy apps that connect directly to your customers' energy devices

E-mobility providers

Surface real-time EV and charging data from multiple OEMs in your app

DERMS

Create residential DR programs with direct access to customers' EVs, thermostats and more

EV fleet managers

Access real-time SoC and location data for your entire fleet, at a fraction of the cost of OBD

Utility and grid owners

Use aggregated EV data to anticipate grid constraints and build demand response programs at scale

Smart home providers

Integrate EVs, thermostats and other energy devices into your solution, no hardware hub required

Don't see your industry?

We partner with companies across the energy ecosystem. Reach out to see how we can help you lead the transition to a sustainable energy system.
Smart charging
Smart charging
The Enode API makes it easy to add smart charging functionality to your app. Let your users experience a frictionless smart charging sessions with insights into their custom smart charging plan, their estimated saving and the climate impact they are contributing to.
Smart charging is integrated with our aggregation engine making it easy to participate in flexibility markets.
>20% savings for the end-users on average
Increased user engagement and retention
First step towards demand response revenue
Read the implementation guide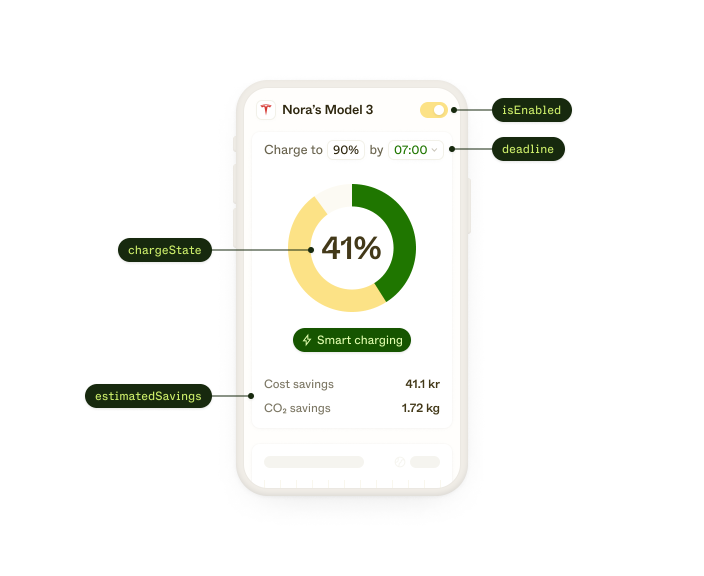 Energy management and insights
Energy management and insights
Integrations to EVs, thermostats, solar inverters and other energy hardware can help your users understand and optimize their energy usage.
Show users their EV charging statistics, the effect temperature has on the energy bill or the CO2 footprint of their energy consumption - and help them understand how to make an impact. Build a closer connection to your users and a positive impact on the planet.
Complete overview of home energy usage
A closer connection to your users and their energy data
Powerful insights into green energy transition
Start building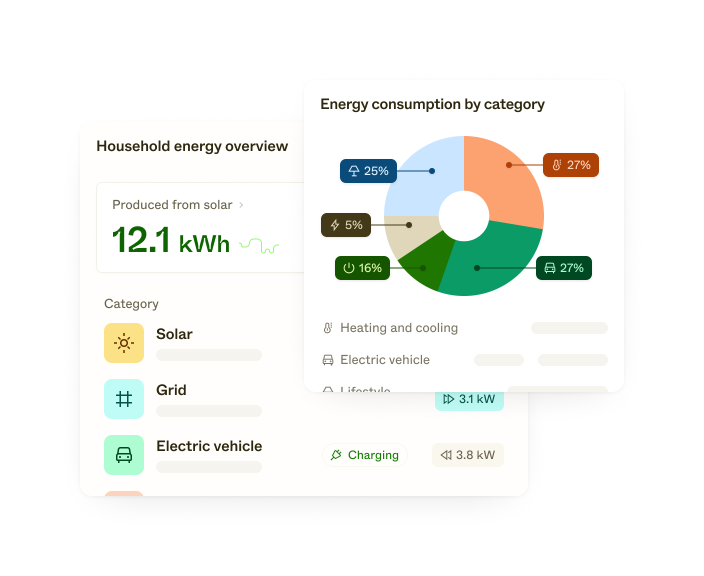 Demand response
Demand response
With only 1000+ users connected to your app you can build demand response programs with real impact. Our aggregation endpoints make it easier than ever to balance the grid and shift energy demand towards renewable supply.
The additional revenue accrued from demand response programs can be shared with the end-user to further incentivize participation.
Additional revenue from connected energy hardware
Positive impact on the grid and renewable supply
Win-win for the user, with $ saving and positive CO2 impact
Start building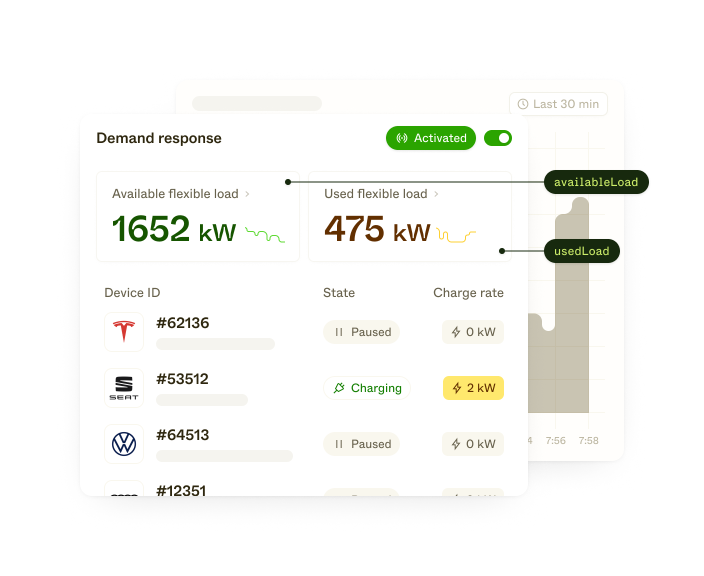 Real-time state of charge (SoC), charge rate and EV location is the quickest way to build powerful e-mobility use cases like smart route planners.
E-mobility and public charging can be frustrating without the right data at the right time. With data directly from the EV via the Enode API you can easily help your users on the e-mobility journey and build trust and engagement at the same time.
Smart route planning with SoC and location
Insights during public charging, like charge-time remaining
Real-time data that puts your users at ease on the road
Read the implementation guide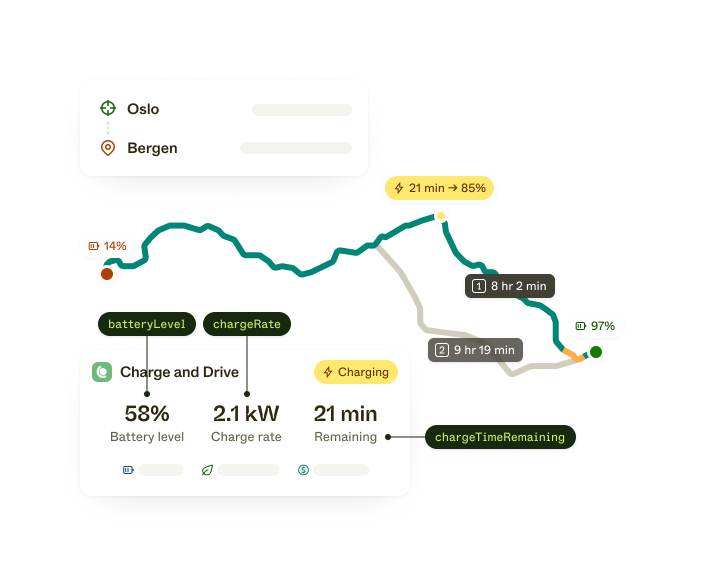 EV charging statistics
EV charging statistics
Customers want to see as much data as possible, and not just live data. EV charging statistics can be a powerful tool for increasing customer engagement as well as provide you with valueable insight into customers charging behavior.
Historical charge rates, total power charged split by location, and cost of charging are all data points available using our charging statistics endpoint.
Key insights into customer charging behaviour
Increased customer engagement
Time serialised and session based statistics view
Read our docs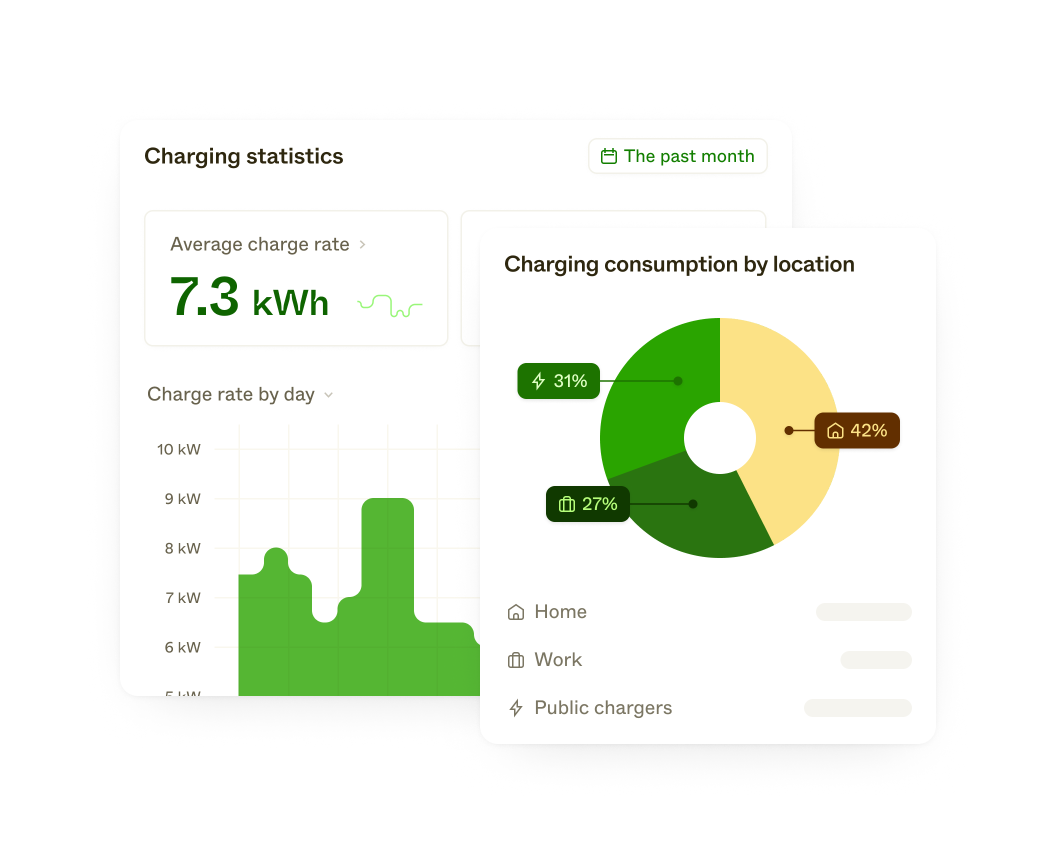 EV fleet management
EV fleet management
Fleet managers use the Enode API to get full control of their EVs. With real-time location data, odometer readings and charge state, they can optimize the utilization of their fleet, reduce charging costs and extend the life of their vehicles.
As fleets make the switch to electric, having the right management tools become increasingly important.
Complete fleet overview: SoC, location and more
Scalable software solution across brands
Proactive response to fleet data
Read the implementation guide